Startups are newly opened companies or companies in their early stages. They have an idea or a finished product that needs placement and funding, which could help them start conquering the market. How do startups come to life? Well, usually, it's the case of one or more people who are colleagues or friends who believe they have an idea or a solution that is in high demand. Often there needs to be more funding at the start, and the biggest challenge is getting sufficient funds to keep operating. Due to that, most startups fail in the first two years of existence. To grow and fulfill their venture, they need the help of the services like feature flags which could make them competitive. But there is a difference from service to service based on the locations and different laws.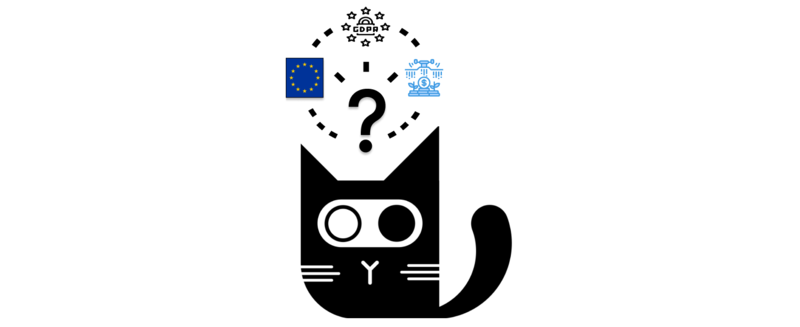 What are feature flags?​
Feature flags are an innovative technique of enabling or disabling certain features without deploying code. Flags provide a more controlled environment for deploying and managing components and lifecycles. During the development stages, developers wrap the segment they are implementing in a flag and enable it based on different conditions. Usually, those conditions are based on minimizing the risk of faulty implementations on high-risk customers or releasing a feature only to specific customers. Companies across the board can and should use this tool to ensure safety and proper coordination when releasing new features. In short, they provide many benefits and have a few downsides.
EU vs. US tech companies​
As an EU citizen, I tried to see from a personal experience what the differences are in starting and managing a tech company and what would be the fundamental differences when it comes to success. The product has two main points that seem to define the market and road to success:
Go big or go home. A phrase that describes the US in general and pushes forward the development of the companies. While most EU companies are working in the early days to make some profit or break even, the US has a different approach: to grow the number of users. This approach is a byproduct of the prominent market of the US and needs market penetration to gain an advantage.

Bureaucracy. The bane of existence for every European entrepreneur. Keeping track of the EU's diverse structure and laws is challenging, especially when a company is trying to expand to other markets and cross borders. Sometimes it's not even worth it to expand the reach. The structure and demand of the US are making it somewhat easier to grow and create a tech giant.
European companies and European values​
Companies must abide by specific rules, whether they are EU-based or have expanded to the market. The country you reside in or the European Parliament sets these laws. The best examples are Apple (their charging port changes in the EU from lightning to USB-C) and privacy rules, also known as GDPR.
European privacy concerns - GDPR​
What's GDPR or General Data Protection Regulation? In short, it's a framework for consent, data protection, and transfer to non-EU countries. GDPR applies to all companies, regardless of HQ location or even if they do their business in the EU. The companies must abide by these rules as long as personal information (names, locations, credit card information, IP addresses, etc.) about EU citizens is collected.
To comply with this, most of the time, sites ask for your permission in the shape of cookies, giving you options from which you can choose how your data is processed.
It's debatable whether this will protect people from unwanted data collection on their internet journey and prevent their personal information from being exposed. But one thing is sure, EU and, consequently, EU companies are much more privacy oriented. That led to the privacy shield used for data transfer being declared ineffective and revoked, mainly affecting the companies working on both sides of the Atlantic.
Should you choose the European feature flag service?​
It depends on a few factors. EU-based startup companies whose business is primarily conducted in the EU should prioritize the EU feature flag service when deciding which to use, as long as other important factors, such as price and values, are balanced. Having everything located in the same region (EU) will produce much faster response times from the servers and overall communication.
Just imagine getting a response from the support team in a few hours rather than the next day. Yes, that happens when companies operate in the same or the following timezone and share similar values and overall attitudes. One possible downside here is the language barrier in the EU because of its structure. But if we look more closely, English is integrated with people's lives starting at kindergarten, making this a smaller and smaller factor over the years.
Data Governance​
Data Governance is a feature or setting which describes and sets how data is gathered, stored, disposed and processed. It's important that companies, regardless of whether they are based within the EU or operate within its borders, have a clearly defined set of data governance guidelines. It's smart to consider them when choosing the feature flag service.
Pro tip: ConfigCat has this feature available on a global or EU-only level. Customers can control the geographic location where their config gets published. Also, data centers are located all over the globe, which ensures low response times and high availability.
EU feature flags services​
Here's a comparison of services based in Europe and their hosting options. The overview also includes information on privacy features, focusing on data governance and compliance with GDPR and other privacy regulations. In addition, the table lists the key elements of each service, including A/B testing, experimentation capabilities, and integrations with popular tools such as Slack and JIRA.
| Service | Headquarters | Hosting | Privacy | Key Features |
| --- | --- | --- | --- | --- |
| ConfigCat | Budapest, Hungary | Cloud-based and on-premises hosting options | Data governance and GDPR compliance | A/B testing and experimentation capabilities, real-time feature flag updates, ability to roll back feature flags with a single command, integrations with popular tools such as Slack and JIRA |
| Unleash | Oslo, Norway | Cloud-based and on-premises hosting options | GDPR and Schrem II compliant | A/B testing and experimentation capabilities, integrations with popular tools such as Slack and JIRA |
| Flagship by AB Tasty | Paris, France | Cloud-based hosting | GDPR & CCPA compliant | A/B testing and experimentation capabilities, integrations with popular tools such as Google Analytics and Adobe Analytics |
To sum it up​
The EU marketplace differs from the US primarily due to different laws and structures of the bodies deciding over them. This creates differences in the level of protection and overall control of personal information. Also, a different investment climate pushes EU startups in another direction.
GDPR, once it came out, brought significant changes. All companies had to adapt and change their policies from the ground up, leading to new ideas that pushed development forward and created a new climate with a little more transparency. But also increased the number of cookie prompts and emails about data handling.
And remember, if you want to learn more about the feature flags or stay up to date with all the news, check out the social hub: